PATINA Jan 2023 Meeting (Amy McAuley)
January 15 @ 8:30 am

-

2:00 pm
The Sunday, January 15 in-person CLUB meeting was held in McLean VA.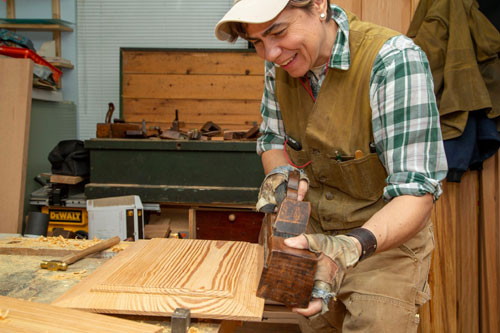 The guest speaker at this meeting was Amy McAuley, Restoration Manager at George Washington's Mount Vernon.
Amy McAuley was the Preservation Joiner at George Washington's Mount Vernon from 2019 until October of 2022.
Amy has recently been promoted to Restoration Manager for George Washington's Mount Vernon. From 2002 until taking the position at Mount Vernon in 2019 she was the owner of Oculus Fine Carpentry based in Portland, Oregon, where she specialized in the conservation and construction of 18th and 19th century windows and doors.
Some notable projects besides Mount Vernon in Virginia include Heceta Head Lighthouse in Oregon, and Fort Simcoe in Washington State.
Amy holds a Bachelor of Arts degree from the University of Oregon and she has done post baccalaureate work in Architecture, Historic Archaeology and English Building History. In 2018 she was awarded a fellowship to Winterthur to study 18th c. door construction methodology.
Tailgating started around 830 until 1100, followed by the mini-auction at 1130; the program started around 12pm. Attendees brought sash related tools to show or sell, and questions were discussed on plane making or sash!